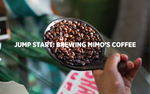 So you've been excited to try your new Mimo's Coffee delivery but don't know the best way to brew it at home? We're going to fix that right now. Here's a breakdown of the easiest homebrewing techniques to jump-start your Mimo's coffee experience.
K-Cup
Starting here because we've gotten the most inquiries about whether it is possible to make Mimo's Coffee in your Keurig. The answer is, yes. The single-serve coffee maker that's taken the world by storm, introduced the My K-Cup Universal Reusable Filter as a convenient and efficient way to brew your favorite ground coffee from the comfort of your home or office. K-Cup pods can be used in all of Keurig's coffee makers, giving you the freedom to brew your favorites, like Mimo's Coffee, while enjoying the ease of use that comes with your Keurig.
Best Mimo Beans: Yirgacheffe (Ground)

To brew Mimo's Coffee using a Keurig and K-Cup: 
Fill the K-Cup pod with coffee grounds to the MAX fill line. 

Place the K-Cup pod into the designated slot in your Keurig coffee maker. 

Brew and enjoy! 
Grab your reusable Universal K-Cup Pods and kick off your morning with some Mimo's Coffee.
Pour Over/Drip: Coffee Cone
The pour-over/drip method of brewing coffee is a tried-and-true favorite of coffee lovers all over the world. Simple, quick, and effective, the drip method entails pouring hot water evenly over the ground coffee of your choice inside of a paper filter. 
Brewed coffee will drip down directly into your cup. Coffee cones (where you place your matching paper filters) can be made from a wide range of materials including plastic, glass, and stainless steel. Different shapes and materials will yield subtle differences in the taste of your coffee. Try out coffee cones from popular brands like Hario V60 and Kalita Wave until you find a favorite. 
Best Mimo Beans: Yirgacheffe (Ground)
If you opt for the drip method, keep a few things in mind:
Use 3-4 tablespoons of coffee grounds to produce 1 cup of coffee.

Keep the grind of your beans somewhere between coarse and medium-fine.

Brewing takes between 1-3 minutes. 

Paper Filter must match your Coffee cone. 
Plunger/Press: French Press
The French Press method, popular among many coffee aficionados, brings out the best of your coffee beans. Whether you're looking for strong, sublime flavors or you enjoy waking up to the sweet, full-bodied aroma of your favorite coffee, try the French Press method for a robust, enjoyable cup at any time of day. 
Using a press pot, you soak, steep, and strain your ground coffee in hot water. This results in a deep, elaborate diffusion of everything you love about your favorite coffee -- essential oils, aroma, and flavor. The french press is also easy to clean, portable, and does not require filters. Try out this Bodum press option to get started.
Best Mimo Beans: Harrar (Whole Bean)

For best results: 
Grind 2.5 - 3.5 tablespoons of coffee grounds coarsely to yield one cup. 

Let the coffee brew 4 minutes. 

Decant all of the coffee immediately after brew to avoid bitterness from prolonged steeping
Percolate: Stovetop Moka Pot 
A 20th Century Italian invention popular in both Europe and Latin America, stovetop coffee makers are perfect for anyone who enjoys an espresso-style cup of coffee from the comfort of home. 
These coffee makers rely on the steam pressure from the boiling water in the bottom chamber rising through a mid chamber filled with coffee grounds. From there, the coffee percolates and is filtered into the highest chamber. This method only requires a gas stove and results in a strong brew comparable to a single or double shot of espresso. Check out this Moka Pot option from Bialetti.
Best Mimo Beans: Harrar (Whole Bean)
When using a stovetop coffee maker, keep in mind: 
Be sure to grind 2.5-3 tablespoons of coffee fine to medium-fine

Quality stovetop coffee makers result in better pressure and a better brew! 

The brew is strong and can result in a bitter taste so keep your favorite sweeteners ready. 
FYI: All of our ground beans come in a medium-fine grind, which as aforementioned, is not ideal for all brewing methods. We highly suggest investing in a good coffee grinder for the best results for your brewing method.
If you're looking for an overall great grinder, this Oxo Burr Grinder is our top choice. For an easy, simple grind we recommend this blade grinder by Bodum.